Ponytail Hair Extensions – The What, Why & How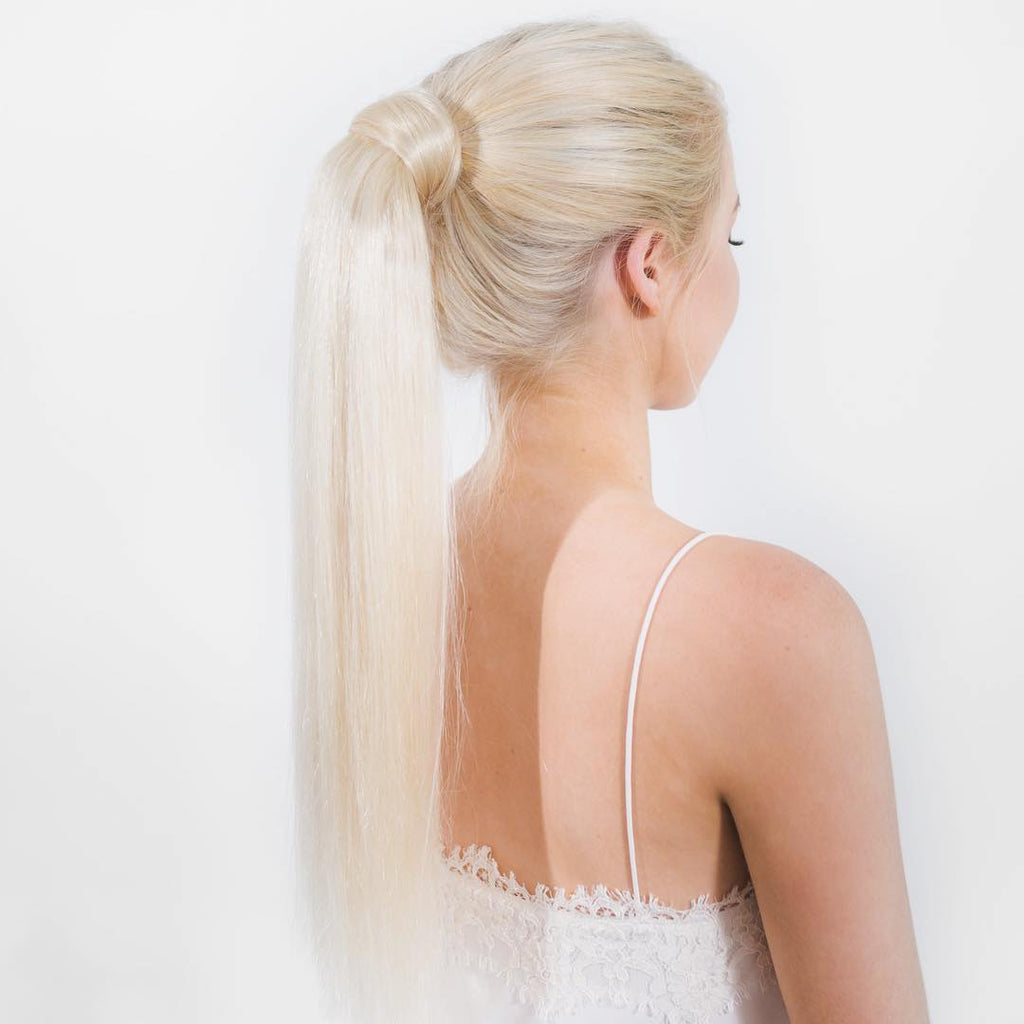 Shorter hairstyles and thinner hair can create gorgeous, stunning, and sophisticated looks, but sometimes we just want to wear a fuller and longer style.
Not having enough length or volume to enjoy the hairstyles you really want is a common issue for many women. A popular look is a long, sleek, and bouncy ponytail, which is a basic yet beautiful hairstyle, however it demands more length and volume to create the desired effect. Larger buns or fuller braids are also well-loved looks that can be perfect for both fancy occasions and casual wear. If you weren't born with naturally long, thick, and luscious locks, the full and bouncy ponytail, bun or braid can still be yours with the help of quality ponytail hair extensions! Stunning, head-turning hairstyles can be achieved with the comfortable clip in extensions, whether you want to wear fuller hair for a special occasion or just refresh your day-to-day style.
Clip in ponytail hair extensions are ideal for those who want to temporarily add volume and length to the hair, without applying permanent hair extensions such as tape or microbead extensions. Just like longer-term hair extension methods, a clip in ponytail extension will also look and feel like your natural hair – provided that it is made from real human hair as opposed to synthetic fibres.
Ponytail Hair Extensions – The What
Ponytail hair extensions are designed to add thickness and length to your ponytail. The result is a bouncy, voluminous, and healthy-looking ponytail that looks and feels great. The larger ponytail can be beneficial when creating other looks like a bun or a braid, creating a thicker effect. A typical ponytail hair extension piece is generally 18 to 20 inches long and can be applied using a concealable clip. Extensions that are made from real human hair are always the recommended choice if you want a soft, natural, and realistic result. It's also recommended that you get a storage bag for when your extension isn't in use, to keep it in good condition and avoid tangling.
At Jadore, we supply 100% high quality, ethically sourced human Russian hair extensions that are thick and strong all the way to the ends. They have at least twelve months of wear time, allowing you to enjoy the looks for over a year's worth of special occasions or glamorous daily styles.
Ponytail Hair Extensions – The Why
There's a long list of reasons that plenty of women choose to own a ponytail hair extension, as it can provide countless benefits. Here are just a few of the reasons to start wearing ponytail hair extensions:
Create longer, fuller ponytails. If your ponytail is usually quite short and thin, a clip in extension is an instant and simple fix. You can wear it whenever, wherever, and as often as you want to!
Enjoy more hairstyle possibilities. If you've been dreaming about creating new hairstyles but haven't had the length or volume to be able to do so, that is about to change! clip in a ponytail hair extension, you can enjoy a longer list of versatile and glamorous hairstyles, such as a thick braid, or a full and stylish bun.
Easily and quickly apply your extension. The application process is super simple, and once you have done it many times, you will get even faster at it! Once you have mastered how to apply the ponytail extension, it can take you as little as five minutes to complete.
Feel comfortable when you wear your extension. They adhere well to your hair with the secure bobby pins and velcro base, comfortably staying in place for a night of celebrating or just casually looking fabulous.
Create a natural-looking hairstyle with the discreet clip in piece. When the shade of your ponytail hair extension correctly matches your hair, and you cover the base of your ponytail, the extension appears as if it is just a part of your natural hair.
Improve the appearance of your unwashed hair. If you have gone a few days without washing your hair and need to head out for last minute drinks or dinner plans, you can just quickly apply your ponytail hair extension and look completely fresh! This can even improve the health of your hair, as washing your hair too often can strip away healthy natural oils, and repeated heat styling can damage and dry out your hair. Just by applying a ponytail hair extension, you can now enjoy a beautiful style without having to worry about noticeable greasy hair.
Make a temporary change, without the commitment of adding permanent hair extensions to your hair. Long-term hair extensions are amazing and can provide many benefits, however, sometimes we aren't sure if we want our hair to be thicker every day and may just want to try creating fuller hair for an occasion or for a day here and there. Clip in extensions are perfect, as they can be easily applied and removed whenever you please.
Find your perfect extension thanks to the wide range of options that are available. No matter your hair type, length, or texture, you will be able to find the right ponytail hair extension to suit your needs. Ponytail extensions are available in many colours to create the most natural look.
Enjoy a less costly alternative to applying permanent hair extensions. Ponytail hair extensions are an affordable option for temporarily adding volume and length to your hair. The extension also requires little maintenance, avoiding additional salon visit costs. At Jadore, you can get an outstanding quality ponytail hair extension for only $209, and you can even benefit from our Afterpay or Zip payment options available.
Wear the extension while you are taking a break from permanent hair extensions. If you are someone who loves wearing longer-term hair extensions in your hair, such as tape or micro bead extensions, you may choose to have a break from time to time for various personal reasons. Owning a clip in ponytail extension gives you the option of creating your favourite fuller hairstyles temporarily, until you decide to reapply permanent extensions.
Easily care for your extension. Ponytail hair extensions only need to be washed once they have become difficult to style or brush through. In fact, washing the extension too often can lower the longevity of the product. Just keep your extension in our clip-in storage bag when you are not wearing it, wash it when necessary, and you can continue to enjoy it for over a year!
Ponytail Hair Extensions – The How
Lastly, let's look at how to wear ponytail hair extensions. Correctly applying the extension will create the best results and will ensure that it will stay in place throughout the day and night. If you're new to hair extensions, you may even want to get a stylist to help you for the first time, or apply it for you for a special occasion so that you can make sure that your ponytail looks perfect.
How to wear a ponytail hair extension
If you are planning to curl or straighten the extension, do so before you attach it. Then, here are the steps that you can follow to achieve the best result:
Put your natural hair into a ponytail. Using a brush and a hair tie, place your hair into a high ponytail, positioned close to the crown of your head. You will need the ponytail to be placed slightly higher than you want to wear it. Secure your ponytail in place with a hair tie before moving onto the next step.
Brush the extension. Before applying the ponytail extension, brush it gently using a wide-tooth comb or paddle brush. In order to be easy to style and manage, the hair needs to be completely tangle-free.
Place the ponytail extension. Start by placing the clip of the extension underneath your hair tie at the top of the ponytail. Next, slowly start wrapping the extension around your ponytail with the velcro, until it overlaps and is secure.
Conceal the band. For a natural, sleek, and discreet look, use the tail piece of the ponytail around the base of the ponytail to conceal the band and add a bobby pin to secure it in place. This will blend the extension with your natural hair, creating a seamless transition from your original hair at the roots to the extended hair at the ends. As a bonus, this technique of using a strand of hair to cover the hair band makes for a sophisticated and creative hairstyle.
Make sure it's securely placed. Lastly, move your head around to make sure that your ponytail is secure. If correctly applied, your ponytail should feel comfortable and stable with movement. You can now leave it as is and enjoy your luxurious ponytail, or transform it into a gorgeous braid or bun.
Get premium hair extensions for a glamorous look at Jadore
Jadore's hair extensions are worn and loved by many for their beautiful quality, and are continuously praised for feeling soft, appearing natural and being made in gorgeous colours. Choose from a wide variety of options to perfectly match your hair and create the styles that you desire. If you find that you didn't quite choose the right option, we offer 30 day returns and exchanges so that you can find the ideal extension for you. Our clip in ponytail extensions are always in premium quality and condition, made from 100% human Russian hair. Check out our many options available and start enjoying your new hairstyles!