How to Take Care Of Your Hair Extensions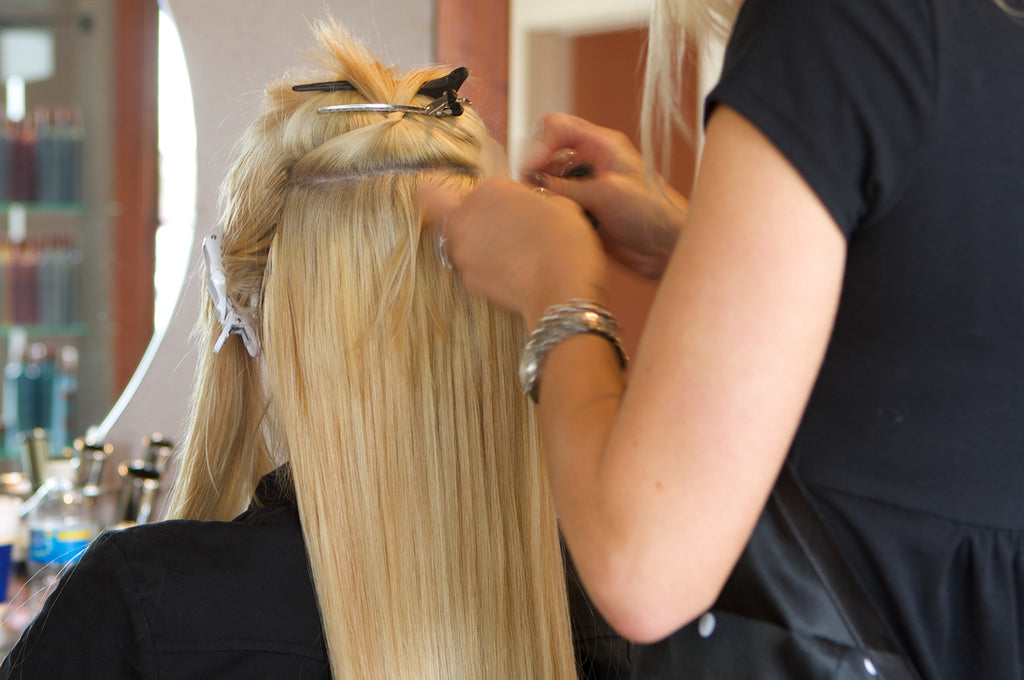 Hair extensions, especially quality ones, might cost a little bit more but they are a long-term and worthy investment. When you make this splurge, you need to take proper care of your hair extensions. To make sure your extensions last as long as possible, you need to maintain them properly.
Failure to care for your extensions can damage your own hair. Keep in mind that real hair extensions and synthetic hair extensions are different and require different routines. So, keep reading to find the best ways to preserve your hair additions!
 
How to take care of human hair extensions
It's not hard to take care of human hair extensions, but there are some things that you should keep in mind:
1. Keep your hair clean.
Dirt and sweat can make your hair extensions tangle. To prevent this from happening, you should wash them with sulphate or paraben-free shampoo. Before shampooing, detangle your hair from the ends to the roots, and then wash your hair from the roots to the ends.
2. Ensure you hair is dried after washing or swimming.
A wet or damp hair can damage the tape adhesive or bonds of your hair extensions. As a result, it can be removed from your real hair.
3. Use soft bristle brushes.
Soft bristle brushes remove tangles while preventing damage to the tape adhesive. Start at the ends and work your way up. All brushing should be done in a downward gentle motion to prevent putting too much tension on your hair extensions.
4. Avoid prolonged sun exposure, chlorine, and saltwater.
They are the biggest enemies of human hair extensions. Sun exposure, chlorine, and saltwater can leave your hair dehydrated. This in turn leads to dryness and tangles.
When swimming in a pool or beach, it is recommended to wear swim caps or keep your hair in a ponytail or plait. If your extensions do get wet, use shampoo and conditioner on your hair as soon as possible.
5. Apply conditioner to your hair extensions regularly.
Using a conditioner does not only make your hair extensions shine but it also repairs your hair's protective layer – the cuticle layer. When applying conditioner, make sure to focus on your mid-lengths to ends to avoid your roots becoming too greasy.
6. Avoid washing your hair extensions daily.
Washing your hair extensions daily can dry them out. To keep your hair extensions hydrated, wash them no more than three times a week however this will depend on the thickness and how much products you apply to your hair extensions.
7. Dry your hair completely before going to bed.
When you sleep with wet human hair extensions, tangles can form. Some hair strands can also pull your natural hair, resulting in damage. You can blow-dry your hair extensions since they are 100% human hair. They are heatproof and the bonds will not melt when you blow-dry them. We also recommend wearing your hair in a low ponytail or plait before going to bed to prevent tangling.
8. Dip your hair extensions in a water with diluted shampoo.
The easiest way to clean your hair extensions between applications and when they aren't in your hair is to submerge them in a water with diluted shampoo. Before soaking them, comb your extensions a few times to remove any tangles. Submerge your extensions in the water for 10 minutes and move them from side to side to clean them properly. Never swirl your hair extensions in the water to prevent tangles from forming. 
9. Rinse your extensions under a cold running water.
Running water helps remove dirt from your extensions. The cold temperature allows moisture to stay in the hair extensions and prevents them from drying out. After rinsing, squeeze them with your hands and place clip ins on a clean towel to dry, for permanent methods gently pat dry with a towel before blowdrying.
Temporary versus permanent hair extension methods
Clip-in hair extensions are temporary, whereas permanent extensions can stay on your hair from six weeks to eight weeks depending on how they're maintained. Styling temporary extensions can be done as normal however, washing is recommended sparingly to avoid stripping them of moisture. To make sure that your permanent hair extensions look as good as they did on their first day, make sure to maintain a proper care routine of your extensions and to follow the specific instructions from your hairstylist.
Last article update: 12/01/2021