How Long Can You Really Keep Those Clip-In Hair Extensions?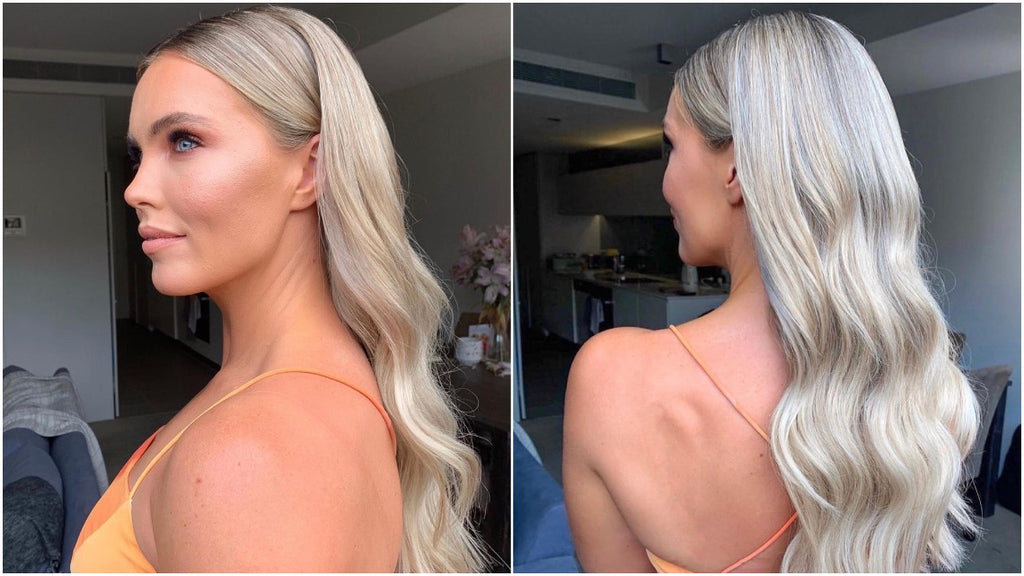 Clip-in hair extensions are easy to use and they look great but how long should you be wearing them on a daily basis?

Clip-in hair extensions have never been more popular. Why wouldn't you love a product that could instantly boost the length and volume of your hair? Never mind the fact that they're quick to install and remove.
Whether you've just purchased clip-in hair extensions or you're thinking about it, chances are you're going to love them so much that you'll want to wear them daily, throughout the day and night. Whether or not this is something you should be doing is what we're going to cover in this blog. 


Clip-In Hair Extensions: How Long Can You Keep Them In?
Apply your clip-in hair extensions anytime you want to extend the length or increase the volume of your hair. Will it get you through your 8-hour workday? Definitely! Can you keep them in when you meet your friends for dinner that evening? Absolutely! Can you sleep with them and not have to worry about reapplying them the next day? Unfortunately not. Your hair extensions should always be removed before you exercise and sleep if you want them to last and if you want to protect your natural locks. 
Clip-In Hair Extensions: How Long Do They Last?
Hair extensions are an investment, particularly if you purchase premium Russian, which are made with the highest quality, 100% human hair. Naturally, you want to know how long they're going to last.
Right off the bat, you should know that synthetic hair extensions won't last as long. The price might be more attractive but there's a high chance you'll need to replace them much sooner. And as they're synthetic, the hair tends to have a "shiny" look that makes them look obviously fake.
Overall, if you take good care of your clip-in extensions, they will last up to a year. With heavy use and without the proper care, the lifespan will be affected. What many people tend to forget is that even though clip-in hair is not your natural hair, it still needs extra care and attention.
In the case of synthetic clip-in extensions, these generally don't last more than 2 – 3 months, especially if you're going to wash, style and wear them often.
Tips for Making Your Clip-In Extensions Last
Here are a few tips that will ensure your clip-in hair lasts as long as possible.
Go easy with the removal
The gentler you are when removing your hair extensions, the better it is for your natural hair and the clip that's holding everything in place. It's not uncommon for strands of your natural hair to get wrapped around the clip, all of which will be damaged if you remove the clip too roughly. When you try to remove the extensions too quickly, you could also end up detaching them from the clip, which means you will need to replace your extensions before you'd hoped to.
Don't wash them too often
Since your hair extensions aren't affected by the natural oils that are produced by the scalp, you only need to wash them once or twice a month. The type of products that you use on your extensions also matters. You want to pick products that are free of parabens and sulphates. The less chemicals you use, the longer your clip-in hair extensions will last. Don't forget to use a heat-protection spray before styling too.
Be gentle when brushing
Not only should you be extra gentle when brushing your hair extensions but you should brush them before and after you wear them too. By keeping the extensions tangle-free, less matting will occur, which will extend their lifespan. Purchasing a brush that's designed for hair extensions will ensure there's no unnecessary pulling while brushing. Never brush your hair extensions when they're wet – dry them first and always store them dry too.
Store them correctly
Correctly storing your clip-in hair extensions is another simple way to make them last longer. Once you've removed them, close the clips, give them a brush and store them on a hanger or in a box or bag that will keep them protected from dust, mould and sunlight. Store the bag or box in a cool, dry place. You may also want to secure the extensions near the base with a soft hair tie before storing.
By making some slight adjustments to your hair care and extensions routine, there's no reason why you can't enjoy your clip-in hair extensions for as long as possible.