The Hair Extension Hacks You'll Wish You Knew about Sooner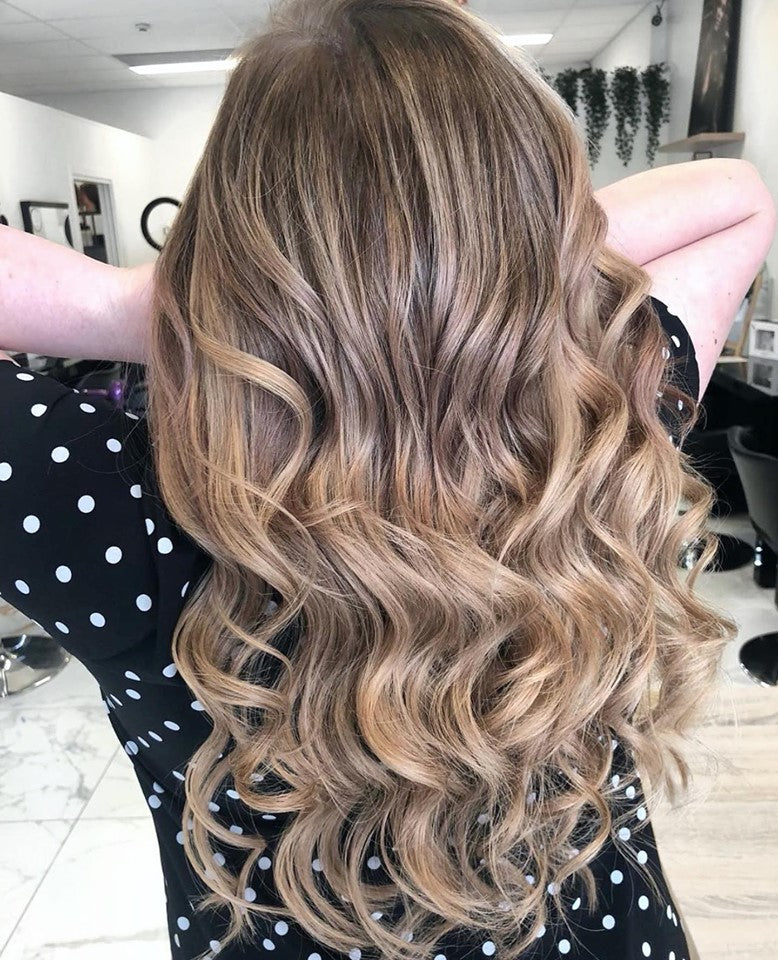 There are so many great reasons to wear hair extensions – even more so when you know a few effective hair extension hacks. From achieving longer locks and more volume, to trying out new hairstyles, hair extensions can do it all.
8 Must-Know Hair Extension Hacks

Here are a few tips and tricks that you'll definitely be glad you found out about.
1. Make Styling Easier with a Hair Extensions Hanger
It's always going to be easier to style your hair extensions before they're clipped in because then they can't be pulled out of place. If you already have a hair extensions hanger at home, use it to secure the hair as you create your style. A hanger will allow you to use both your hands to create the perfect look.
2. Tease Your Hair Before You Apply Your Extensions
Want your hairstyle to last longer? Simply tease your natural hair before you apply
your clip-in hair extensions
. This hack is particularly useful if you have thin hair. Start by dividing your hair into sections and gently tease each section at the roots. By adding more texture to your hair, your natural locks will have a stronger hold on the extensions.
3. Backcomb to Prevent Slipping
This is another useful hack if you have fine hair and want your extensions to stay in place. Start by separating the section of hair that will be used to clip the weft in from the rest of your hair. Now, use a brush to backcomb your roots before you spray a bit of dry shampoo on the area. This added texture makes it much harder for your extensions to slip.
4. Storage Matters
Many people don't realise it until they try it, but storing your hair extensions correctly can make a big difference to how long they last and how good they look. This is a particularly important hack if you tend to travel often. You will want the
hair storage container
to be as airtight as possible to prevent impurities and debris from settling on your locks. Roll the weft and secure them with a hair clip before you store them.
5. Avoid Bumps by Clipping Hair Extensions in Upside Down
If you are planning to create a sexy ponytail or a voluminous updo, experts recommend clipping your hair extensions in upside down. This will prevent any bumps from forming where the wefts are placed. Clipping them in upside down will ensure they lay as flat as possible.



6. Hide Shorter Hairs Using a Bottom Braid
When you
purchase hair extensions
, the idea is for them to blend in with your natural hair. However, if you have relatively short hair, these shorter hairs can end up peeking through the extensions, which will make it clear that it's not your natural hair. To prevent this from happening, gather the hair at the nape of your neck and braid it from the bottom up. Place this braid flat against your head and secure it with bobby pins. You can now place your weft directly above these pins and continue clipping your extensions in from here. Once your wefts have all been secured, you can undo the braid.
7. Place Your Wefts at an Angle
If your hair is heavily layered, it helps to place the hair extensions at an angle along the side of your head. This will ensure that you create natural-looking layers that frame your face and that your extensions blend in with your natural hair.
8. Wash Your Extensions When You Get Home
Once you bring your hair extensions home, it's best to shampoo and condition them. Doing so will get rid of any chemicals and dirt that may be present on the wefts. It will also give you a good idea of the natural curl or wave that's present in the extension.


These hair extension hacks will not only help you take better care of your extensions but ensure you can create new styles, quickly and easily without damaging your hair or taking too much time out of your day.