10 Reasons Why You Should Get Clip-In Hair Extensions (Updated 2021)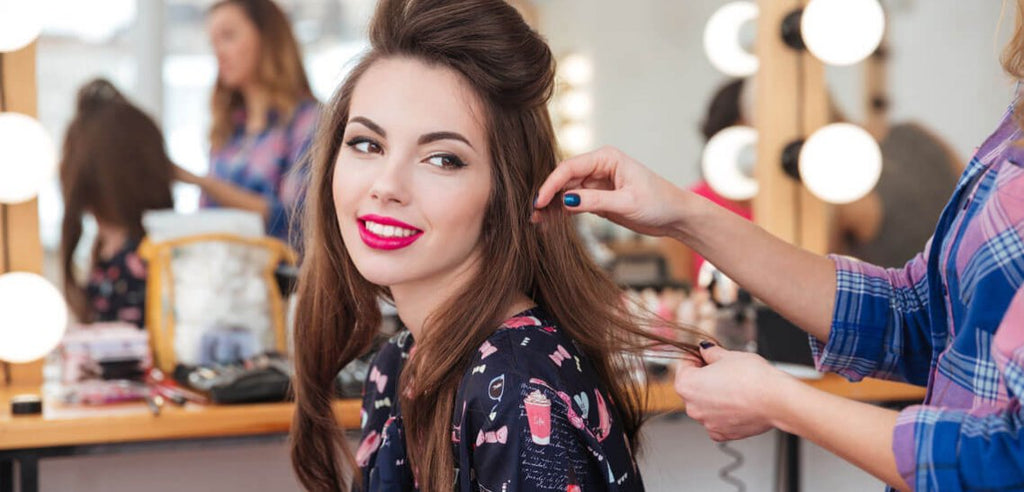 For some women rocking their natural hairstyles is not an option. Some may suffer from hair loss; others think their hair is not the right colour or it's too fine. As women, we have all experienced those times when we just don't like the way our hair looks! Thankfully, clip-in extensions, in particular, are a reliable and viable option for many women. If you're fed up of trying to figure out what to do with your hair on a daily basis; check out the following clip in hair extensions benefits to learn more about this hair extension method.
1. Increased Hair Volume and Fullness
One of the benefits of using clip-in hair extensions is to create stylish hairdos that give you instant volume and fullness. We're not all blessed with a head full of thick and beautiful hair but thanks to clip-in extensions you can get the look, feel and texture you've always wanted. In just a matter of minutes, clip-in hair extensions can increase the volume of your existing hair with natural and discreet results. If you have thin or fine hair, this hair extension method is a cost-effective solution to your problem.
2. Celebrity-like Hairstyles
Clip-in hair extensions are also effortless to colour if you are looking to change your hairstyle. With their natural ability to shape and style, you will be able to pull off those fabulous red carpet hairstyles celebrities spend thousands of dollars on! With clip-in extensions, you can experiment, style and colour like never before. It offers a wide range of styling options that helps you recreate the hairstyle of your favourite celebrities. With clip-in extensions, you can achieve your desired hairstyle without worrying that your hair is not long or thick enough.
3. Natural Looking Results
Another bonus to using clip-in hair extensions is that when you have them installed correctly, they can look just as natural as your real hair. High-quality clip-in hair extensions blend in so well that finding the hairstyles that work for you will be an easy task. To achieve incredibly natural and discreet results, your hair length needs to be at least 6 to 7 inches long. This ensures that the clips adhere to your hair securely and prevents them from showing through your hair.
4. Damage Control
Most of the complaints women have about their hair is that they can't do anything with it because it's too damaged. Depending on how badly you treated your hair in the past, there may be quite a bit of damage to your hair. This is another reason why clip-in hair extensions are amazing! You can style your hair without worry, just ensure that you follow care instructions when you are working with clip-in hair extensions.
5. Long Lasting
One major drawback that many women have after going to the salon is that their trim, style or colour just doesn't last as long as they want it to! When you use clip-in extensions to accomplish the looks of natural hairstyles, you'll be amazed at how long they last. With proper application and care, your clip-in extensions can last anywhere between 3 to 6 months. However, it is important to keep in mind that the lifespan of your clip-in hair extensions will greatly depend on how they are applied and cared for.
6. Easy Maintenance
Clip-in hair extensions can help you achieve your desired hair volume and length in just 5 minutes. All you need to do is clip it to your own hair close to your scalp and make a few adjustments to secure it. If you change your hairstyle frequently, this hair extension method can best suit your lifestyle and hair routine. You can simply remove tangles in your clip-in hair extensions by gently brushing them. When you want to shift back to your original hairstyle, you can remove the clips easily and just hang them up. This means that this low-maintenance hair enhancer is a perfect option for clients that live busy lives.
7. Get Clip In Hair Extensions and Boost Your Confidence
Isn't it amazing how a new hairstyle can make you feel better and can transform your entire mood? This is why changing your style can be great. Clip-in extensions can boost the fullness and quality of your hair while giving you a boost in self-confidence too. If you're getting depressed over your thin or fine hair, this hassle-free hair extension method can help improve your self-esteem as well as overall quality of life by giving you fuller and fabulous hairstyle without the need to spend hours in the salon. Clip-in extensions are also considered as a cost-effective solution and quick fix if you had a bad and annoying haircut.
8. Every Colour of the Spectrum
If you've felt like doing something new and unique with your hair but are concerned about the side effects or damage that a certain hair colour treatment can bring, then clip-in hair extensions might be perfect for you. The beauty of clip-in extensions is that there is truly no limit to the types of extensions that you can find. It doesn't matter what hair type you have; you can find hair extensions that are perfect for you. Most importantly, you can benefit from adding fun colours to your hair without having to put damaging chemicals on your natural locks. You get to mix and match different hair colours until your desired results are achieved – all of this without risking the health of your hair and scalp from hazardous hair colour treatments.
9. Saving A Pretty Penny
Are you trying to decide between using clip-in extensions or a more permanent extension method? If cost is the main reason why you can't decide, then you should definitely go with clip-ins. Clip-in extensions are way more affordable than other extension methods and allow you a ton of savings over time. Additionally, other extension methods can ultimately be more painful and damaging for you in the end. When clip-in extensions are cared for properly, you can enjoy the benefits of having increased hair volume and self-confidence for over a full year.
With clip-in extensions, you can get the fullness you want while saving money too! If you're looking for a good long-term investment, this hair extension method is the cost-effective choice.
10. Let It Grow
We've all had at least one bad hair salon story where we went in asking for a trim off the ends, and come out with a horrible new and un-wanted choppy bob cut. Clip-in hair extensions can essentially allow your natural hair to continue to strengthen and grow while concealing a bad haircut. This is very helpful especially if you are trying to get out of the in-between stage of growing your hair out. All you need to do is wear your clip-in hair extensions until your natural hair reaches your desired length.
If you're unhappy with the way your natural hair looks, perhaps its time to try clip-in hair extensions. Jadore Hair Supplies is proud to have the most extensive range of Clip In Hair Extensions in Australia! Our hair extensions are made with the highest quality, 100% Remy human hair, and with proper care, they can last anywhere from 12–24 months. If you're looking for a long-term solution to your hair problems, clip-in hair extensions are a great transition into permanent hair extensions since they can be converted to sew-in wefts.
Article updated: Apr 20, 2021