Clip vs Tape Hair Extensions: Which One Should I Choose?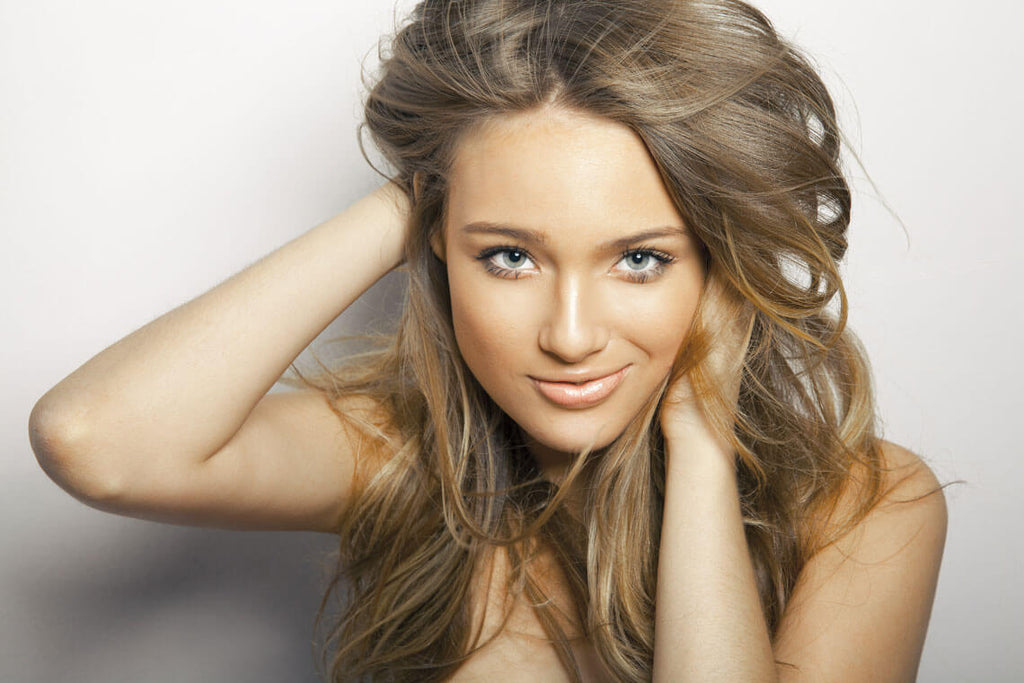 Long and luscious locks never go out of style and we always see celebrities and stars on the red carpet boasting beautiful hair. Hair extensions are more popular now than ever, which means there are lots of options to choose from. In fact, it can get pretty confusing! That is why there is a debate surrounding clip vs tape hair extensions. Of course, we already know that Remy hair extensions are an investment, which means you want to make the right decision.
So, let's have a look at clip vs tape hair extensions and find out what option is the best one for you!  
Clip-in Hair Extensions
Clip-in hair extensions are just like they sound and they are an easy and affordable way to achieve volume. They are created using any kind of hair, from synthetic to Remy and have clips attached to the base of the weft.
The great thing about this hair extension method is that they are simple to attach and you do not have to be a professional to use them. All you have to do is part your hair and attach the clips between two pieces of your hair. Then brush them to make sure that none of the wefts are visible.
If you are looking for a quick style solution that looks beautiful, then you will love clip-in hair extensions. You do not have to go to a salon to have them fitted nor do you need a steady hand to do them yourself. They are versatile and can be used temporary for special occasions or when you want to achieve a different look. It only takes between 10 to 30 minutes to fit clip-in hair extensions.
So, we have learned that clip-in hair extensions are versatile, easy to use and simple to attach. What other benefits are there? Well, they cause no damage to your natural hair and they are comfortable for most people to wear all day. In addition, if you choose Remy hair, it can be dyed for a different style.
Most options are affordable and cost-efficient. Although, clip-in hair extensions will not be suitable for everyone. This includes people that have thin hair, as the wefts may be visible. If you have a sensitive scalp, these extensions can also irritate it; you may be better off with another option.
Of course, you also have to watch how you attach clip-in hair extensions. They can fall out and slip off if you do not attach them correctly. But, this is something a little practice can fix!  
Tape Hair Extensions
One of the newest methods to join the market is tape hair extensions. This consists of having adhesive polyurethane tape attached to the top of a weft.
While you may be thinking; do these hair extensions really work? You will be surprised to know they really do! The tape is strong and holds hair perfectly in place for beautiful length and volume. You can get single and double-sided tape, which is clear and transparent so nobody knows you are wearing extensions.
Premium-quality tape hair extensions like Jadore always use Remy hair, which means you can boast beautiful and natural human hair all year round. This method should be done by a professional stylist and it normally takes around one to two hours to complete. But, we think it is worth the wait! A stylist will section the hair and this will provide a guide for where the hair extensions will go.
The tape is placed underneath a small section of your hair, which should be slightly off the scalp for comfort, and the safety of your hair. These extensions will cost more than clip-in hair extensions, but we think they are worth every penny. You will have decreased use of heating tools on your natural hair and they take less time to apply than sew-in extensions but have the same great look.
In addition, if you maintain and take proper care of your extensions, they can last up to one year. What's more, they can also be styled anyway you like by dying as well as enjoying a perm. But, it is important to remember that this will not be the best option for everyone.
If you have thin hair, there is a danger of the tape showing through and an invisible tape option like skin wefts might be a good option. If you sweat excessively, this can also make the tape extensions move around and slip. You have also got to watch what products you use on your extensions; ones that are oil-based will damage them.
Of course, not everyone will want their extensions fitted by a professional or they simply do not have the time. Tape hair extensions should always be fitted and removed by a stylist and you won't be able to wash your hair for two to three days while the tape is strengthening.
So, who wins in the clip v tape hair extensions debate? Well, that is up to you! There are advantages and disadvantages to both hair extension methods and it is often down to personal preference.
Once you have made your decision, you can purchase clip-in or tape hair extensions from Jadore Hair Supplies. We are the top hair extensions providers in Australia, with a range of colours and 100 percent Remy hair that you will love.